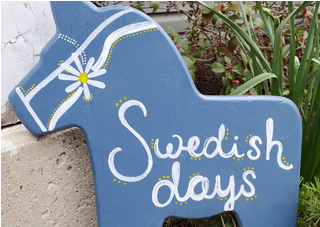 Geneva's Swedish Days Festival June 22-26
Kane County Connects Staff 6/22/2022 2:00PM
Known as the "Granddaddy" of festivals, Swedish Days kicks off Wednesday, June 22 in Geneva. Swedish Days dates back decades and is a celebration of the community Swedish heritage.

In its 72nd year, Swedish Days features a wide variety of entertainment, food and shopping. There are events for all ages. The festival ends on Sunday, June 26 with a hometown parade route down Anderson Blvd. and Center, south to State, east on State to Third and then south on Third to the Metra Train Station.
The Geneva Chamber of Commerce has chosen Mari Landwehr as the marshal of the 2022 Swedish Days Parade. According to a news release, Landwehr has lived in Geneva for all of her 18 years and has been involved with Special Olympics and Fox Valley Special Recreation. She is a graduate of Geneva High School and now attends the SAIL program at Mid-Valley Special Education.
The City of Geneva notes there will be street closures during the event. The main festival areas that will be impacted are Third Street from State to South streets, James Street from Second to Fifth Streets and Campbell Street from Second to Fifth Streets. James Street will remain closed through the conclusion of the festival. With the exception of the Swedish Days Parade, Third Street will be open for most of June 26. For more information go to
www.genevachamber.com
SOURCE:  City of Geneva and Geneva Chamber of Commerce